Other Native American Beadwork
Other Native American Beadwork Page 5 of 9
These hand beaded things are not intended for children age 13 and under. Only one of each item is available.
A delightful and original way to show off your favorite picture: Navajo Dollyann Talk-Jim has created a structurally correct Navajo rug loom and woven a miniature "rug" using 10º seed beads in a variety of colors. The display includes wool carders, weaving forks, a spindle with bead yarn, a "sheepskin" (made of sueded leather) rug for the weaver to sit on, and even a painted Navajo wedding basket.
Each picture display has a wooden base measuring about 10-7/8″ x 3-1/4″. At the highest point, the display measures 8-3/4″. The store-bought acrylic picture holder will take a 5″ x 7″ picture. Except for the base and picture holder, this is a hand made item and is intended only for use as a picture display.
This picture display stand has an ear of corn and wedding basket pattern rug loomed in dark red/turquoise, white/multi seed beads; the miniature rug measures about 2-1/4″ wide x about 4″ high. Sorry, no gift wrap is available for this item. Click on the images to see larger pictures. Pop-ups must be enabled. $50.00
| | | | |
| --- | --- | --- | --- |
| Item number | Item Description | Price | Click To Add To Cart |
| a3489 | Corn/Wedding Basket Rug Picture Display | $50.00 | |
This picture display stand has a Coal Mine Mesa pattern rug loomed in dark red/turquoise/white/multi seed beads; the miniature rug measures about 2-1/4″ wide x about 4″ high. Sorry, no gift wrap is available for this item.Click on the images to see larger pictures. Pop-ups must be enabled. $50.00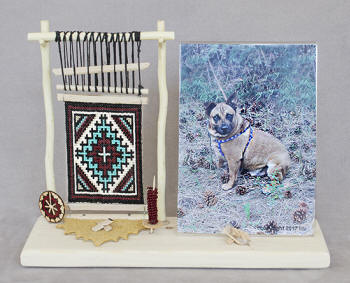 | | | | |
| --- | --- | --- | --- |
| Item number | Item Description | Price | Click To Add To Cart |
| a3491 | Coal Mine Mesa Rug Picture Display | $50.00 | |
Other Native American Beadwork Page 5 of 9
Email us at