Native American Beaded Necklaces
Native American Beaded Necklaces Page 8 of 16
These hand made items are not intended for children age 13 and under. Only one of each item is available.
These brightly colored brooch and scarf sets made by Navajo Shawana Yazzie are sure to win you compliments. The feather fan pins are worked in a colorful rainbow of 14º cut beads. Each of the brooches measure about 4" wide x 3-3/8" high without the 2-3/4" long white leather tassel.
Framed and backed with leather, the brooches have a 1-3/8" pin finding and can also be worn as pendants. They have a 1-1/2" long tube of leather on the back for a cord or chain to be pushed through. Regardless of leather color, all of the brooch backs are similar to a3760.
Each brooch comes with a coordinating purchased floral acrylic scarf. Scarf measurements are given below with each set. Price per set is $113.45
14º cut beads in turquoise/flame colors/multi are used in this feather fan brooch handmade by Navajo Shawana Yazzie. The brooch is framed and backed in tan leather and measures 4" wide x 3-1/2" high. It comes with a conventional 1-1/2" long pin finding. The coordinating purchased black floral acrylic scarf is 29-1/2" x just over 28". Please note that the feather fan pin does not come with a tassel. Click on the image to see a larger picture. Pop-ups must be enabled. $113.45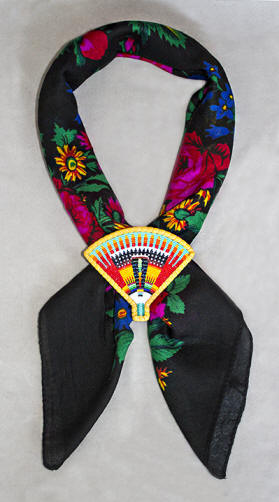 | | | | |
| --- | --- | --- | --- |
| Item number | Item Description | Price | Click To Add To Cart |
| a3790 | Turq./Flame Feather Fan Brooch & Scarf | $113.45 | |
Yellow accented with greens and lavenders were used on this feather fan brooch/pendant framed and backed in black leather. It comes with a bright yellow acrylic floral scarf measuring about 26-1/2" x 27-1/2". Click on the image to see a larger picture. Pop-ups must be enabled. $113.45
| | | | |
| --- | --- | --- | --- |
| Item number | Item Description | Price | Click To Add To Cart |
| a3762 | Yellow/Multi Feather Fan Brooch & Scarf | $113.45 | |
A feather fan brooch/pendant in yellow/multi 14º cut beads and framed in dusty pink leather teams up with a purchased hot pink acrylic floral scarf measuring 28" x 28" square. Click on the image to see a larger picture. Pop-ups must be enabled. $113.45
| | | | |
| --- | --- | --- | --- |
| Item number | Item Description | Price | Click To Add To Cart |
| a3754 | Pink/Yellow/Multi Feather Fan Brooch & Scarf | $113.45 | |
This royal/multi feather fan brooch made with 14º cut beads is framed and backed in black leather. It comes with a coordinating purchased bright blue acrylic floral scarf. The scarf measures about 27" x 27". Click on the image to see a larger picture. Pop-ups must be enabled. $113.45
| | | | |
| --- | --- | --- | --- |
| Item number | Item Description | Price | Click To Add To Cart |
| a3759 | Royal/Multi Feather Fan Brooch & Scarf | $113.45 | |
Native American Beaded Necklaces Page 8 of 16
Email us at