Authentic Native American Indian Jewelry & Beadwork for Sale
COYOTE'S GAME HOLIDAY SALE
20% OFF all regular merchandise* including beadwork, silver, pottery, more. Sale ends December 15. The discount will show up in your shopping cart when you check out.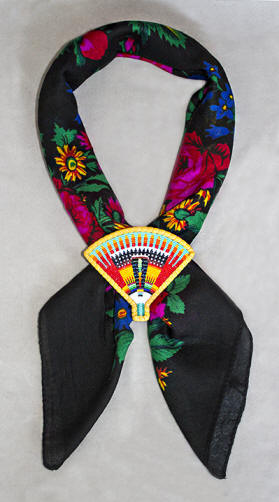 Don't want to order on-line? Use our toll-free order number
.
Coyote's Game offers authentic Native American Indian jewelry and beadwork made by skilled native artists and crafts people from tribes across the United States. Our specialty is Native American bead work. If you're enchanted, as we are, by the dazzling colors and designs found in bead work, we invite you to browse our web site.
We offer a large selection of Native American bead bracelets, necklaces, barrettes, earrings, hair accessories, pouches and more.
Shop for earrings and necklaces made by nationally recognized Kewa-Creek-Seminole artist LeJune Chavez, as well as the unique beadwork of Canadian Three Fires Odawa artist Sharon Trudeau. Better known by her Odawa name of Waawaaskonenhens, Sharon uses Delica beads and bone hair pipe beads to create jewelry that makes a contemporary fashion statement.
Coyote's Game is also proud to offer the work of award-winning Caddo (Hasinai)/Delware bead artist Yonavea Hawkins. Yonavea uses cut beads to weave traditional patterns into her loomwork for beaded belts and cuff bracelets.
A selection of sterling silver jewelry is for sale at Coyote's Game—everything from silver bolo ties to earrings, bracelets and money clips. You'll find Pueblo and Navajo pottery and Navajo blanket toys in our Other Native American crafts area.
A Calendar of Native American events and New Mexico rodeos are part of our web site, along with information on how Native American Indian crafts are made and what to look for when buying.
Plus, customer service with a smile.
WE SHIP INTERNATIONALLY
2004 - U.S. Department of Commerce, U.S. Commercial Service Export Achievement Award
WE ACCEPT PERSONAL CHECKS, MONEY ORDERS
INTERNATIONAL MONEY ORDERS
VISA, MASTER CARD, DISCOVER, AMERICAN EXPRESS and
PAYPAL
WE GUARANTEE OUR PRODUCTS
We keep our prices reasonable by buying directly from the artist whenever possible. Our reputation is based on experience and customer satisfaction, so that you can buy with confidence.
Questions? Contact us at:
*Sale does not include Bargain Basement merchandise. Only one discount per order allowed.
See our policies below for payment, shipping, refunds and customer privacy.
© 1999-2023 Coyote's Game. Reproduction without permission is prohibited.